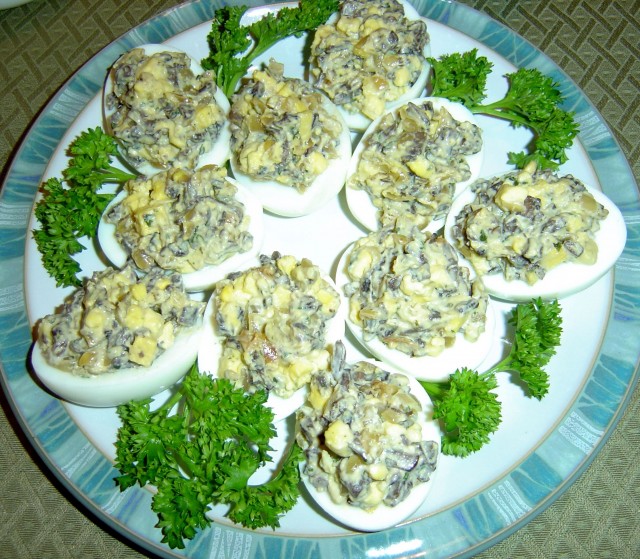 There are many different stuffed eggs recipes. If you ever visited Russia or celebrated holidays with Russians, you probably know that mushrooms are often used in Russian cuisine. So, it's not surprising that the most well-known Russian stuffed eggs recipe asks for mushrooms. You can make this dish for any holiday. It's a wonderful appetizer and, needless to say, it goes very well with vodka. The mushroom-stuffed eggs are always a big hit at our holiday table.
Feel free to adjust my recipe to your taste. I use more mushrooms than I am going to recommend in this recipe. That is because I absolutely love mushrooms!
Here are the ingredients you will need to make the mushroom-stuffed eggs:
10 hard-boiled eggs
1 small yellow onion
8 oz package of baby portobello mushrooms
4 Tsp of butter or olive oil
2 Tsp of mayonnaise
stt – salt to taste
ptt – pepper to taste
dill and parsley to taste
Step 1: View my recipe Chicken Soup Without Chicken for instructions on how to boil eggs. When the eggs are cooked, run cold water over them and let them cool off soaking in the pan with cold water.
Step 2: Mince (cut into very small pieces) the onion.
Step 3: Put 2 Tsp of butter or pour 2 Tsp of olive oil into the skillet and heat it over medium heat. Place the onions into the heated skillet, and sauté, stirring occasionally, until golden-brown. Once the onions are done, put them into a bowl.
Step 4: Mince (cut into very small pieces) the mushrooms.
Step 5: Melt remaining 2 Tsp of butter or heat remaining 2 Tsp of olive oil, and sauté the mushrooms until golden-brown. Sprinkle them with a pinch of salt while they are cooking. When the mushrooms are done, put them into the bowl with the onions.
Step 6: Once the eggs cool off, peel them, and cut them in half. Carefully take the yolks out using a teaspoon and your fingers. Place the egg white halves onto a serving plate or platter.
Step 7: Dice the yolks and place them into the bowl with the mushrooms and onions. Salt and pepper to taste. If you have fresh parsley or dill, mince about a half of a teaspoon of the herbs. Add the minced dill and parsley to the bowl.
Step 8: Add 2 Tsp of mayonnaise to the bowl and carefully mix all ingredients trying not to mash them.
Step 9: Use the teaspoon to scoop up some filling and place it into each of the egg white halves.
Step 10: Use fresh dill or parsley to decorate the mushroom-stuffed eggs on a serving plate or platter.
I hope this Russian dish will be a hit at your holiday table as well!