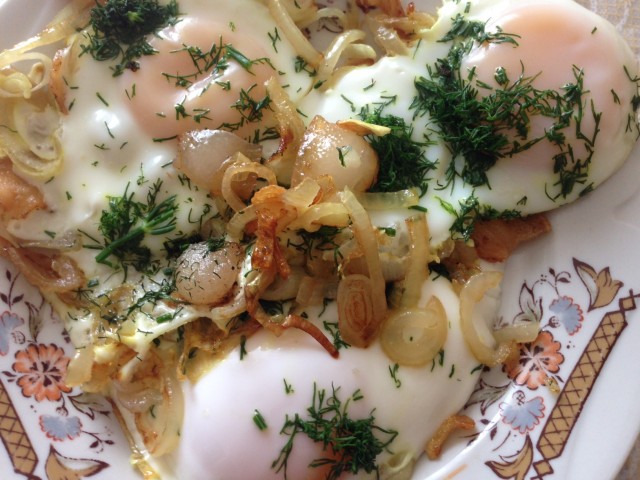 Today на завтрак (for breakfast) I ate perfect глазунью (sunny-side-up eggs) со шкварками (with fried pork fat), луком (onions) и укропом (and dill), помидоры (tomatoes) и огурцы (cucumbers)!
Here is how I make глазунью (sunny-side-up eggs) со шкварками (with fried pork fat), луком (onions) и укропом (and dill). You will need the following ingredients:
2-3 eggs
1 small or medium yellow onion
6-8 1″ x 1.5″ big and 1/4″ thick pieces of pork fat (salted or unsalted)
stt – salt to taste
ptt – pepper to taste
dill to taste (preferably fresh)
Step 1: Place all pieces of pork fat on a skillet, turn the heat to medium, and as the fat starts melting (after about 3 minutes), turn the pieces over using a fork or a spatula.
Step 2: Cut, mince or slice the onion to your liking. I usually cut the onion in half and then slice each half forming 1/8 inch onion arches.
Step 3: Place the onion arches into the skillet and sauté until the onion and the pork fat turn golden-brown. Every minute or two, keep pushing everything around the skillet with the spatial so nothing sticks.
Step 4: Gently break the eggs with a knife (I usually crack the eggs against the side of the frying pan), and let them gently drop into the hot fat.
Step 5: Chop up the dill and place it evenly over the eggs, salt and pepper to taste.
Step 6: Cover the skillet with a glass lid. Let the eggs fry until the top of the whites (including the layer over the yolk) cooks and turns white. If you prefer the yoke set, let the eggs cook 2-3 minutes longer. I like my yolks runny, so I take the eggs out of the skillet as soon as the whites are cooked.
Step 7: You can serve these eggs with a piece of Russian rye bread or with fresh vegetables, such as tomatoes, cucumbers or radishes.
Приятного аппетита! – Enjoy your meal!
What I love about cooking in Belarus is that for most Belarusians eating organic food equals a trip to their backyard or дача (dacha), as in my parents' case.