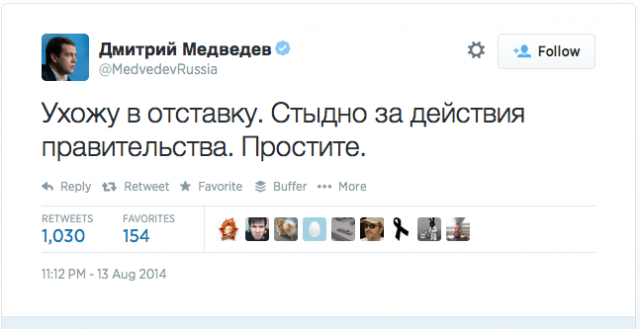 Apparently, someone hacked Russian Prime Minster Dmitry Medvedev's Twitter account this Thursday morning and announced his resignation to 2.5 million of his followers! The first update on his account read: "I resign. Ashamed of the actions of the government. Forgive me."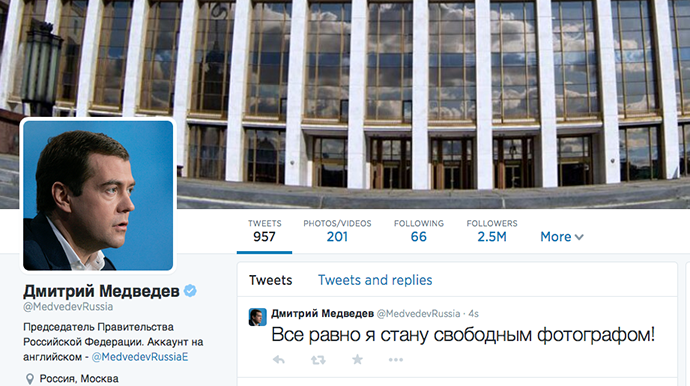 Another update read: "I will become a freelance photographer anyway!" If you follow Dmitry Medvedev on any social media, such as Twitter, Facebook or Instagram, you know that Russian Prime Minister is an avid photographer! Thus, the humor in the tweet above.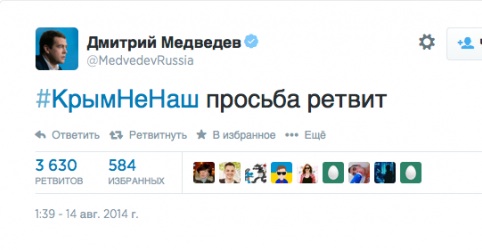 After annexation of Crimea in March of 2014, the hashtag #крымнаш (Crimea is ours) was very popular among Russian Internet users. The hacker tweeted #КрымНеНаш (Crimea is not ours) under Dmitry Medvedev's name and asked for a retweet!

"I have long wanted to say. Vova! You are wrong!" read another tweet. Vova is a Russian nickname for Vladimir, as in Vladimir Putin. This tweet is a cultural reference to Mikhail Gorbachev's famous words, "Boris, you are wrong!" in response to Yeltsin's criticism of the Communist Party in 1988.